Norman Regional Nine is a freestanding emergency department plus created to meet the expanding healthcare needs of residents in southeast Norman.
Norman Regional Nine Plan
Norman Regional Nine marks the first completed project of the Inspire Health Plan. We broke ground in the summer of 2021 and opened our doors to patients in the fall of 2022.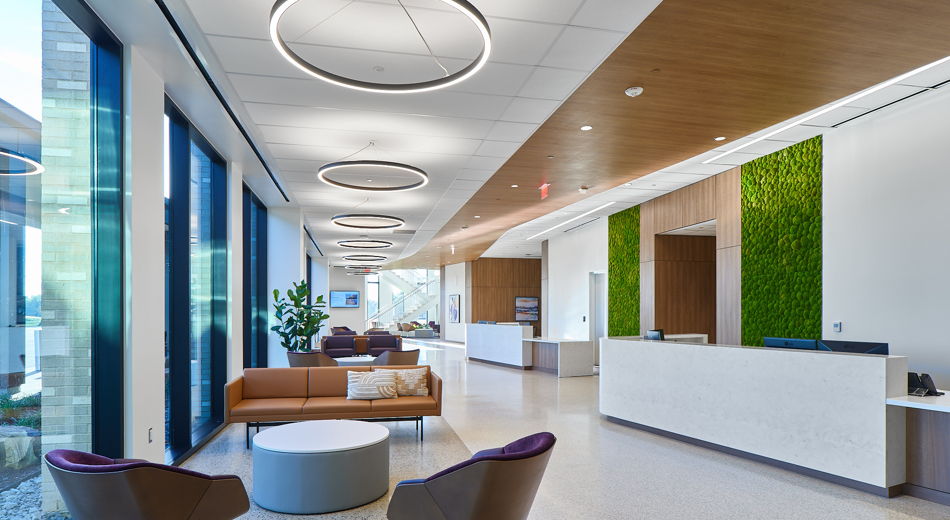 Services
Norman Regional Nine, located on the southwest corner of the intersection of Highway 9 and 24th Avenue Southeast, is the first completed project of the Inspire Health plan. The facility brings greater access to services including emergency services, primary care, physical rehabilitation, gastroenterology, imaging, lab services, and more to the growing east Norman and Noble area.
Emergency Services
Norman Regional Nine's 12-bed emergency room can treat many levels of illness and injury. If a patient needs to be transported to the Norman Regional HealthPlex campus from Norman Regional Nine by ambulance, that ambulance ride is provided free-of-charge. Norman Regional Nine's Emergency Room also has a fast track for minor illnesses and injuries.
Outpatient Physical Rehabilitation
Norman Regional Nine offers outpatient physical therapy, occupational therapy and speech and language pathology services through a highly skilled team dedicated to helping our patients improve movement, reduce pain, restore function and prevent disability. The therapists at Norman Regional Nine treat both adult and pediatric patients.
Primary Care – Norman Regional Nine
Primary Care – Norman Regional Nine hosts board certified family medicine providers Farhad Aminzadeh, MD, Michael Cain, DO, and Bianca Braxton, APRN, FNP-C. Primary Care – Norman Regional Nine offers wellness visits and physicals, sick care, and management of chronic conditions such as high blood pressure and diabetes. If you are interested in scheduling an appointment at Primary Care – Norman Regional Nine, call 405-515-0520.
Cardiology
Board-certified cardiologists Archana Gautam, MD, and Muhammad Salim, MD, treat patients at Norman Regional Nine to provide the best heart care possible, close to home. Call 405-515-2222 today to learn more or schedule an appointment at Norman Regional Nine or any of our other cardiology locations.
Imaging
Norman Regional Nine offers many outpatient diagnostic imaging services including CT, Cardiac Calcium Scoring, Ultrasound, and X-Ray. We also offer an MRI that has a larger opening than most MRIs and can accommodate patients up to 500 pounds. Call 405-307-2290 today to schedule your appointment
Lab
Norman Regional Nine Laboratory Services perform a wide variety of tests to assist in the diagnosis, treatment and management of disease and illness. In most cases, lab results are available the same day. At Norman Regional, when tests are necessary, you can be sure you're receiving expert care from board-certified technologists and pathologists.
See Norman Regional Nine Grow From Start to Finish