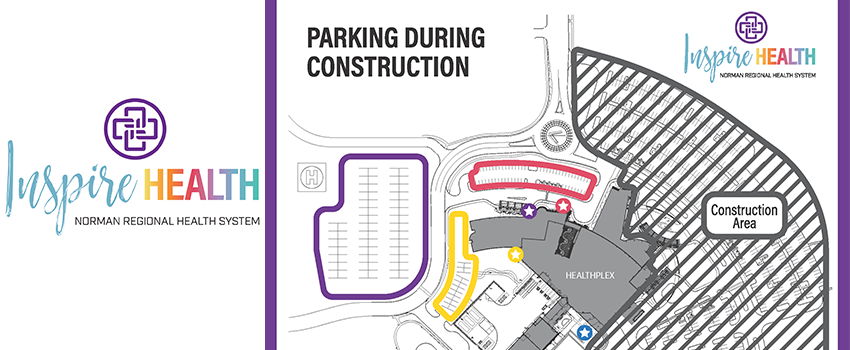 The Norman Regional HealthPlex, located off Interstate 35 and Tecumseh Road, will open a new temporary entrance and parking lots this month to prepare for the expansion of the hospital campus.
The current main and Emergency Department entrances, as well as the main parking lot, will be closed during the construction project. The current west entrance, referred to as the Women's and Children's Pavilion, will become the hospital's new main entrance during this time and the new, temporary Emergency Department entrance will now be located just east of the Women's and Children's entrance.
Additional parking lots have been built to accommodate patients, visitors, physicians and employees.– The patient and visitor parking lot will be located west of the hospital in Lot F, just south of the West Norman Professional Building. Complimentary valet parking is available. There is also emergency parking available just north of the new Emergency Department entrance.
These changes will go into effect at 5 a.m. Monday, June 21.
"Our patients are our No. 1 priority during this time, and our No. 1 driving force behind the HealthPlex expansion. We are doing everything we can to make this process as smooth as possible for them," said John Manfredo, Norman Regional's chief operating officer. "I want to thank our patients and their families for their patience during this time. Please know that we are growing in order to best meet your future health and wellness needs."
During the span of construction, the easiest way to drive to the HealthPlex will be using 36th Avenue NW or Tecumseh Road to access HealthPlex Parkway. Access from the Interstate-35 service road will be closed during construction.
Patients are asked to allow extra time for getting to their appointments at the HealthPlex.
The HealthPlex expansion is part of Norman Regional Health System's Inspire Health plan. Inspire Health is a transformational plan designed to reimagine healthcare. It is a vital step in ensuring our organization and our communities grow stronger and healthier, Manfredo said.
As part of Inspire Health, the Norman Regional HealthPlex is being expanded to consolidate all acute care services at the HealthPlex. The expansion will feature a new patient bed tower, a new roundabout entrance and a new parking garage. Phase two of the expansion will also include the creation of a Cancer Center and an Ambulatory Care Center.
The current construction is part of the HealthPlex's "Make Ready Phase," which is preparing the campus for the project to officially begin. The project will kick off with its groundbreaking ceremony at 9 a.m. Thursday, July 15.
"This is an exciting time for Norman Regional Health System as we are in the final stages of preparing the campus for its expansion. I look forward to watching this expansion grow our current services and equip us with the space we need to best care for our communities," said Richie Splitt, president and CEO of Norman Regional.
For more information on the HealthPlex parking and entrance changes, please visit the HealthPlex location page.